Exposición
News
Los sábados en la playa. Concierto del grupo Trastorners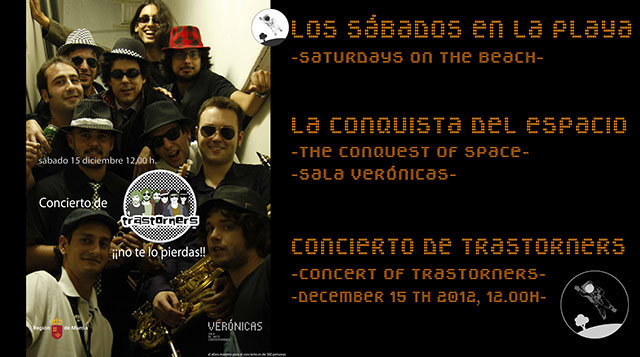 ^La conquista del espacio^
Los sábados en la playa de Sala Verónicas
Concierto del grupo Trastorners
Lugar: Sala Verónicas
Día: Sábado 15 de Diciembre de 2012
Horario: a las 12.00h.
El próximo sábado 15 de diciembre, Sala Verónicas acogerá la actuación de Los Trastorners, grupo murciano que comienza su andadura en el año 2005.
[tp not_in=»en»]
Sus 11 integrantes utilizan el ska y el reggae, mezclándolos con el rock y otros muchos estilos para llevar a cabo la noble misión de repartir diversión allí por donde toquen sus eléctricos sonidos. Ritmos guitarreros con una inigualable sección de vientos dan al grupo la fuerza y potencia necesaria para llevar a cabo sus trastornados planes.
A lo largo de estos 7 años, han ofrecido alrededor de un centenar de conciertos, repartidos en su mayoría en la Región de Murcia, así como, en Albacete, Almería, Granada, Madrid y Florencia (It). Además, han compartido escenario con grupos como Skatalites, O´Funck´illo, Toasters, Betagarri, Discípulos de Otilia, Los Tiki Phantoms, La Pulquería, etc.
En 2013 editarán su próximo disco pero, hasta entonces, se pueden descargar canciones de sus anteriores maquetas visitando Facebook, bandcamp y myspace.
Todo esto y más lo podréis encontrar el próximo sábado a las 12.00 h. en Sala Verónicas, en el ciclo de actividades programadas dentro de la exposición La Conquista del Espacio, cuyo objetivo principal es crear un espacio público creativo y participativo en el que la gente, la sociedad, sea a la vez público y protagonista. ¡Te esperamos!
[/tp]
[tp lang=»en» not_in=»es»]
They play ska and reggae mixed with rock and many styles to accomplish the noble mission of spreading fun wherever they act. Guitarists rhythm with an unparalleled wind section give the group the strength and power necessary to carry out their upset plans.
You can find all this and much more on Saturday 15 th at 12.00 h. in Sala Veronicas, in the cycle of planned activities within the exhibition The Conquest of Space. Its main objective is to create a creative and participatory public space in which people and society are both public and main characters.
[/tp]