Exposición
"La Conquista del Espacio" – Exposición Sala Verónicas – La Conservera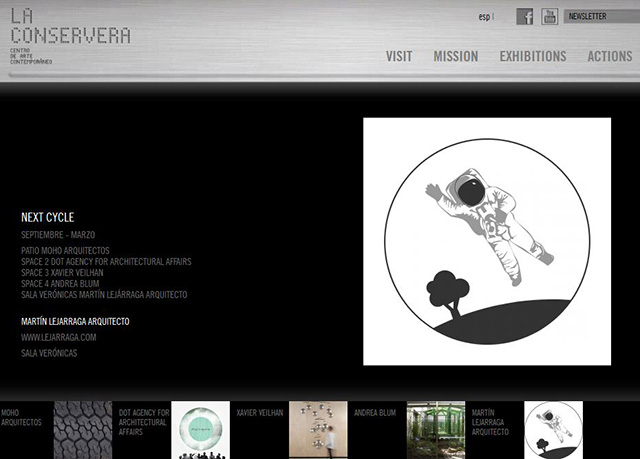 [tp not_in="en"]
El nuevo ciclo de exposiciones –el noveno– del centro de arte contemporáneo La Conservera de Ceutí se inaugura el viernes 28  de Septiembre. Las exposiciones tendrán como temática común la arquitectura y cómo ésta trasforma el espacio público.
[/tp]
[tp lang="en" not_in="es"]
The new cycle of exhibitions -the ninth- at the contemporary art center of Ceutí (Murcia), 'La Conservera', opens on Friday September 28th. The exhibitions will have as common subject architecture and how it transforms the public space.
[/tp]
SALA VERÓNICAS
Martín Lejarraga Arquitectos (Cartagena)
"La Conquista del Espacio"
Inauguración viernes 28 de septiembre, 20:00 h
Opening, Friday Septemeber 28th, 20:00h
[one_half]
[/one_half][one_half_last]
[/one_half_last]
[one_half]
[/one_half][one_half_last]
[/one_half_last]
[one_half][button_orange link='http://www.laconservera.org/ciclos_ficha.php?id=12′ target='_blank']La Conservera[/button_orange][/one_half][one_half_last][button_orange link='http://ocio.laopiniondemurcia.es/agenda/noticias/nws-117471-reflexion-sobre-arquitectura-su-funcion-social-conservera.html' target='_blank']Noticia Prensa[/button_orange][/one_half_last]